Filter Reviews
Fit
Strap
Look
Heel
Feel
Style
5.0 star rating

4.0 star rating

3.0 star rating

2.0 star rating

1.0 star rating
Great Shoes
Review by Leslie on 31 Jul 2020
review stating Great Shoes
These are everything I'd hope they'd be. I wear them for long shifts 100% on my feet in the banquet business. I wanted something cute and feminine without being flats (which are categorically uncomfortable). They are very pretty shoes, really, better than I thought they'd be. They look like a pump from the front, but the heel is low and comfortable without looking too old lady-like. They are much daintier than a clog which is what I needed to pair with a nice dress. There is a little heel rubbing when worn without socks so a band-aid or ballerina socks is needed, and there is slight discomfort after about ~6 hours on the pads of the foot from the slight heel (whereas gym shoes you get no problem), but with leather-like dress shoes a little something is expected. The pain is nothing debilitating and is worth it for a good, professional looking pair of dress shoes. I recommend them and would buy them again.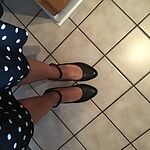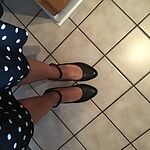 Love these shoes. Look great
Review by Tracey on 19 Nov 2021
review stating Love these shoes. Look great
Love these shoes. Look great feel super comfortable, love the arch support. I need them in more colors so I can get more! How about brown and dark red?
Adore these
Review by Nancy on 7 Oct 2021
review stating Adore these
I love these b/c they are dressy enough to wear with skirts and professional clothes yet very comfortable and supportive.
Amazing Shoe
Review by Caroline on 20 Sep 2021
review stating Amazing Shoe
Funny thing when I pulled them out of the box I felt discouraged. Though they were cute but they just weren't what I was used to. I suddenly felt like an old lady. Regardless they sat in the box for 4 weeks but yesterday my feet were killing me and I had to work so I wore them. I fell in love!!!!!!! I couldn't believe the relief that I got and once I got over my stupid ridiculous thoughts I felt super proud walking into a room as I was feeling so much better. I felt like I was walking on cloud nine as my feet, knees and hips felt young again and I felt so much better. Crazy to think something as simple as a "good sturdy" pair of shoes that my podiatrist encouraged me to buy could make such a huge difference. I'm going to be getting more pairs of Dansko as it truly is amazing shoe
Love this shoe, stylish and
Review by PAULA on 11 Sep 2021
review stating Love this shoe, stylish and
Love this shoe, stylish and comfortable!