Filter Reviews
Size
Fit
Color
Pain
Comfort
Strap
Leather
Arch
Look
Quality
Feel
Problem
...
Style
Support
Heel
Buckle
Sneakers
Flats
Shoes
Feet
Toes
Foot
Break
Person
5.0 star rating

4.0 star rating

3.0 star rating

2.0 star rating

1.0 star rating
LOVE LOVE LOVE them
Review by Stephanie on 26 Feb 2019
review stating LOVE LOVE LOVE them
I am in serious love with these shoes. It is difficult to find cute shoes with larger feet and these in a 43 wide fit me perfectly. I can wear them all day and my feet still feel good at the end of the day. None of that, "ahhh" feeling when I take them off. Instead, my feet feel energized. Wish they had other colors in the 43 wide as I would buy more!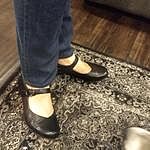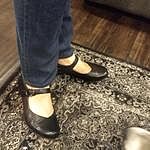 the best all around shoe
Review by MARIANNE on 9 Oct 2021
review stating the best all around shoe
I wear with skirts and feel very dressed. I have a brown pair, 2 black and 2 blue. Its the only shoe I wear as a work shoe. great arch and deep enough to wear prescription orthotics.
very comfortable
Review by Elena on 8 Aug 2021
review stating very comfortable
very comfortable
Perfect
Review by Diane on 22 May 2021
review stating Perfect
These are cute, well made and so comfortable. Total win in all respects. The strap buckle is only decorative, the strap attaches by Velcro so the fit can be dialed in and easily adjusted. Love them.
Love These Shoes!
Review by Lee on 19 May 2021
review stating Love These Shoes!
Most comfortable shoes ever!