Filter Reviews
Color
Leather
Look
Cleaner
Sandals
Smell
Footbed
Shoes
Shine
Price
Work
Spray
...
5.0 star rating

4.0 star rating

3.0 star rating

2.0 star rating

1.0 star rating
Great for nursing
Review by Samantha on 27 Mar 2020
review stating Great for nursing
Great for nursing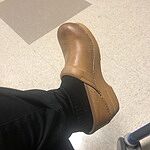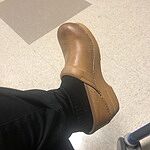 Beeswax Conditioner
Review by Allyn on 2 Nov 2021
review stating Beeswax Conditioner
The Danskø Beeswax Conditioner was/is a necessary product for the Professional Distressed Leather Clogs that I have been wearing constantly! I used a plain white washcloth to dip into the jar as well as spread onto the leather shoes, and added a final buff after 24 hours of "cure" time. I wish the Conditioner came with its own special cloth, so I used my own plain washcloth instead. The instructions (on the jar-not on the website) state "Warm shoes with a hair dryer, presumably before applying the Beeswax Conditioner. The instructions (not on the jar-only on the website😳) state to re-apply after 6 months—1 year. I will probably re-apply every 3-4 months, to keep the leather as dry, clean, and protected as possible.
AND… after trying to submit this review, the options that are NOT applicable were REQUIRED so that is why the lowest ratings on Fit and Comfort were used. Maybe this problem could be addressed by Corporate Admin for necessary customer interaction‼️‼️‼️‼️🤦🏻‍♀️‼️
Excellent product
Review by Prasanna on 15 Sep 2021
review stating Excellent product
Excellent product
Love it
Review by jodi on 27 Aug 2021
review stating Love it
Makes my shoes last for years
Keeps my shoes looking great!
Review by Daniel on 26 Apr 2021
review stating Keeps my shoes looking great!
Keeps my shoes looking great! Another excellent product by Dansko. If you're buying Dansko shoes you definitely need to purchase the conditioner, it's helped keep my last pair of Wynns in service for more than 5 years.